Yemsrach (Yemi) Hailemariam
Trustee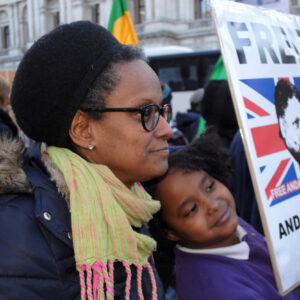 Yemi is the partner of Reprieve's former client, Andy Tsege. In 2009, Andy was sentenced to death in absentia by the Ethiopian government for being an activist opposing the country's repressive regime. In 2014, while travelling through Sanaa airport in Yemen, Andy was abducted by Ethiopian security forces and imprisoned.
Days after Andy's abduction, Yemi contacted Reprieve. For the next four years, she campaigned tirelessly to secure his release and return to the UK. Reprieve supported Yemi at every turn, but she led the charge. She went to Parliament, she campaigned in the media, and she launched litigation to make sure the UK Government did everything they could to help her husband.
In 2018, Andy was released.
Yemi was born in New York State and grew up between the US, Ethiopia and Cameroon. She graduated from the University of Maryland with a degree in electrical engineering, and currently works as a senior business analyst. She lives with her family in North London, where Yemi is a governor at her children's school.