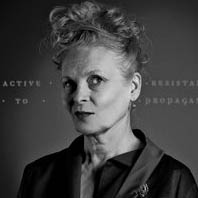 Vivienne is a world-renowned fashion designer.
Vivienne began her career in fashion in 1971, when she opened a shop at 430 Kings Road, Chelsea in collaboration with her partner Malcolm McLaren. By the end of the seventies she was already established as a symbol of the British avant-garde and showed her first catwalk presentation in London in October 1981. The next year, Vivienne began to show in Paris, the first British designer to do so since Mary Quant.
2004 saw the V&A host a Vivienne Westwood retrospective exhibition to celebrate her 34 years in fashion – the largest exhibition ever devoted to a living British fashion designer. In 2006, Vivienne's contribution to British Fashion was officially recognised when she was appointed Dame of the British Empire. In 2007, she was awarded the Outstanding Achievement in Fashion at the British Fashion Awards in London.