David Morrissey
Ambassador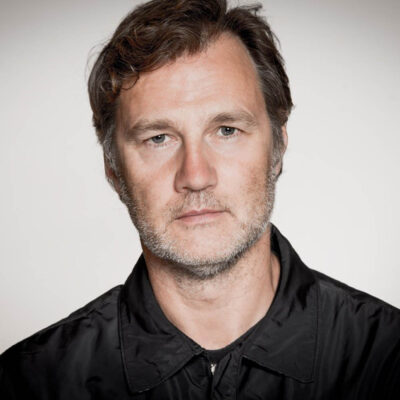 David is considered one of the most versatile British actors of his generation, having performed in an eclectic range of productions for film, television and stage.
Born in Liverpool, David left to study in London at RADA and upon graduation secured varied and challenging roles, which have continued into his long career. David can currently be seen starring in the British drama 'Britannia I' and 'Britannia II' on Sky. The first and second series of the show, both written by Jez Butterworth, are set in 43AD and explores the Roman Imperial Army on their return to crush the Celtic heart of Britannia.
2019 saw David play the role of David in 'The End of History' at the Royal Court in London, directed by John Tiffany. Prior to this David was on stage in the Bridge Theatre's production of 'Julius Caesar', directed by Nicholas Hytner. David took on the role of Mark Anthony alongside a cast that includes Ben Whishaw and Michelle Fairley. The play ran from 20th January to the 15th April 2018 and was broadcasted nationwide to a live audience on 22nd March 2018.
David took the lead role in TV mini-series 'The City and the City' where he played Inspector Tyador Borlu in the BBC adaptation of China Mieville's novel of the same name. With a cast that includes Lara Pulver and Danny Webber the fantasy drama is set to TX in April.
In 2016, audiences saw David star as the lead in BBC One's drama 'The Missing', alongside Keeley Hawes and Tcheky Karyo. The 8 part series follows the lives of 'Sam' and 'Gemma' (Hawes) after their daughter, who is missing for 11 years, resurfaces. 2016 also saw David star in thriller 'The Ones Below' alongside Clémence Poésy, Stephen Campbell Moore and Laura Birn.
2015 saw David in 'The Driver,' a three part BBC drama series written by Danny Brocklehurst, produced by Jolyon Symonds and executive produced by David himself. He was also seen starring as 'The Governor' in the fifth series of the critically acclaimed and fan favourite 'The Walking Dead', along with starring in 'Extant' as the role of 'Tobias Shepherd' alongside Halle Berry which aired on CBS in the US. Early 2015 saw David in BBC's 'The 7.39' in the lead role of 'Carl Matthews,' alongside Sheridan Smith and Olivia Colman.
David returned to the stage in 2015 starring in 'Hangmen', directed by Matthew Dunster and written by Martin McDonagh. The play began with a successful run at the Royal Court Jerwood Theatre from September, transferring to the Wyndham's theatre in December. 'Hangmen' received the 'Best New Play' award at the prestigious Olivier Awards in 2016 as well as 'Best Play' at the Critics Circle Theatre Awards in 2015.
David has appeared in some of the most popular and critically acclaimed television dramas such as 'Our Mutual Friend', 'Clocking Off', 'Holding On' (which earned him a prestigious RTS nomination), the six part BBC political drama 'State of Play' (a role for which he received a BAFTA nomination), and one of Channel 4's most controversial dramas 'The Deal', in which he played 'Gordon Brown' (directed by Stephen Frears) for which he subsequently won an RTS Award for his depiction of Brown. In 2006, audiences saw 'David' in 'Viva Blackpool'; a 90 minute programme for BBC1 based on his character in 'Blackpool', a hugely popular six-part BBC musical drama broadcast in October and November 2005. David received the Best Television Actor Award at the Arena Awards, whilst the series also received a prestigious Golden Globe Award nomination. Other television credits include 'The Hollow Crown: Richard II', 'True Love', 'Red Riding', 'Field of Blood' and 'South Riding' as well as 'Sleepyhead' and 'Scaredy Cat' – two films based on the hugely popular Mark Billingham's crime novels for Sky 1 in which he played the lead role of 'Tom Thorne', whilst he also served as an executive producer.
His stage work included a number of productions with the Royal Shakespeare Company and the National, as well as working with highly regarded stage directors including Adrian Noble, Deborah Warner and Declan Donnellan (who
most famously directed him in the title role of 'Peer Gynt'). David received fantastic reviews for his performance in Neil LaBute's 'In A Dark Dark House' at the Almeida Theatre.
His accomplished television and stage performances brought him to the attention of the film world and has gone on to play roles in a range of films including 'Welcome to the Punch', 'Hilary & Jackie', 'Some Voices', 'Born Romantic', 'Captain Correlli's Mandolin', Miramax's 'Derailed', Stephen Woolley's 'Stoned', 'The Reaping' opposite Hilary Swank, 'The Waterhorse: Legend of the Deep', written by Terry George, 'The Other Boleyn Girl', based on the bestselling book by Philippa Gregory, Neil Marshall's 'Centurion' and Sam Taylor-Wood's 'Nowhere Boy'.
In addition to his acting career, David has founded his own production company, Tubedale Films which co-produced Patrice Leconte's film, 'L'Homme Du Train', starring Johnny Hallyday and Jean Rochefort. Tudedale Films has enabled David to branch out into directing; starting with shorts, David also directed the TV project 'Sweet Revenge' in which he was able to work with friend and fellow actor Paul McGann. David directed James Nesbitt in a two-part BBC drama called 'Passer-By' which was broadcast in March 2004, and his first feature film, 'Don't Worry About Me' in 2009 – both to much critical acclaim.