2021 was another challenging year for the charity world as the COVID-19 pandemic continued to cause great uncertainty across the sector. However, we are incredibly proud of how Reprieve has been able to withstand many of the challenges affecting charities and of the significant successes we were able to achieve in 2021.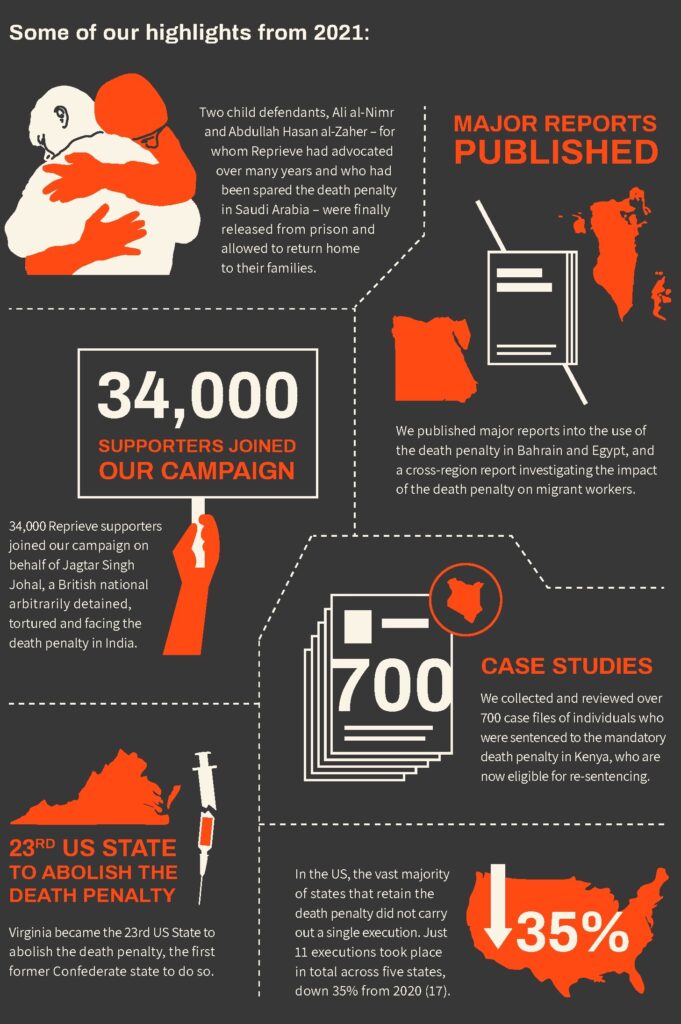 Reprieve continued in our fight to advance the global abolition of the death penalty and to seek justice for victims of extreme human rights abuses carried out by powerful states in the name of "counterterrorism". Fulfilling this vision has been difficult in the midst of a global health crisis when many governments have used the fact that the world's attention has been elsewhere to push through more executions and clamp down on political protest.
Our continued commitment to working with organisations on the ground and in-country fellows meant that we were able to withstand many of these challenges and continue our critical work. Working with our skilled lawyers, investigators, campaigners and communicators, we were able to help overturn the death sentences of our long-term clients, Ali al-Nimr, Abdullah Hasan al-Zaher and Dawood al-Marhoon in Saudi Arabia. All three young men were sentenced to death as children for protest-related "crimes". Everyone at Reprieve was delighted when Ali was released in October, followed by Abdullah in November. We have also been able to make extensive progress in our work to oversee the resentencing of 5,000 men and women on Kenya's death row. Reprieve's expert local lawyers and fellows have continued to travel up and down the country collecting the information required to begin resentencing hearings. This is a unique opportunity to seek justice for thousands of people languishing on death row.
We continued to hold powerful governments to account. Our ground-breaking Trafficked to ISIS Report uncovered the stories of British families who were trafficked to Islamic State and are now detained in Syria. Many are women and children who have had their citizenship stripped without notice and are held in appalling conditions, abandoned by the UK Government. In the US, we won a major habeas corpus victory in the case of Asadullah Haroon Gul, one of our clients detained in Guantánamo Bay since 2007. This case found that Asadullah's detention was unlawful, and is a rare victory in the US courts. Four out of five of our Guantánamo clients are now cleared for release. One of our clients, Abdul Latif Nasser, was released back to Morocco in 2021.
We know that none of our successes would have been possible without the dedication of the whole Reprieve community and the trust and support of our funders. We would like to thank everyone has who has donated money, no matter how large or small the amount, and those who have lent their time, expertise and support to our work. Our achievements are your achievements.