2020 was a year like no other. Every aspect of Reprieve's work, both in the UK and all across the world, was affected by the COVID-19 pandemic. As the eyes of the public, governments and the media were understandably fixed on the ongoing health crises, Reprieve continued in our fight to advance abolition of the death penalty around the world and to secure justice for victims of extreme human rights abuses. But the way we work had to change in almost every way; our staff were working from home, the courts were shut or trials hugely delayed, the court of public opinion was saturated, it was difficult to cut through the noise and tell the stories of our clients.
In the midst of it all, executions, injustice and torture continued and our clients needed us more than ever. Many were at particular risk of the virus following years of mistreatment and torture, from being held in unsanitary conditions where social distancing is simply not possible. Delays in cases and hearings were common, further stalling hopes for justice or freedom. Visits and communications were sporadic at best and often impossible, exacerbating clients' isolation. Some governments even took advantage of the unprecedented situation to push through more executions and retrograde laws to cement political power.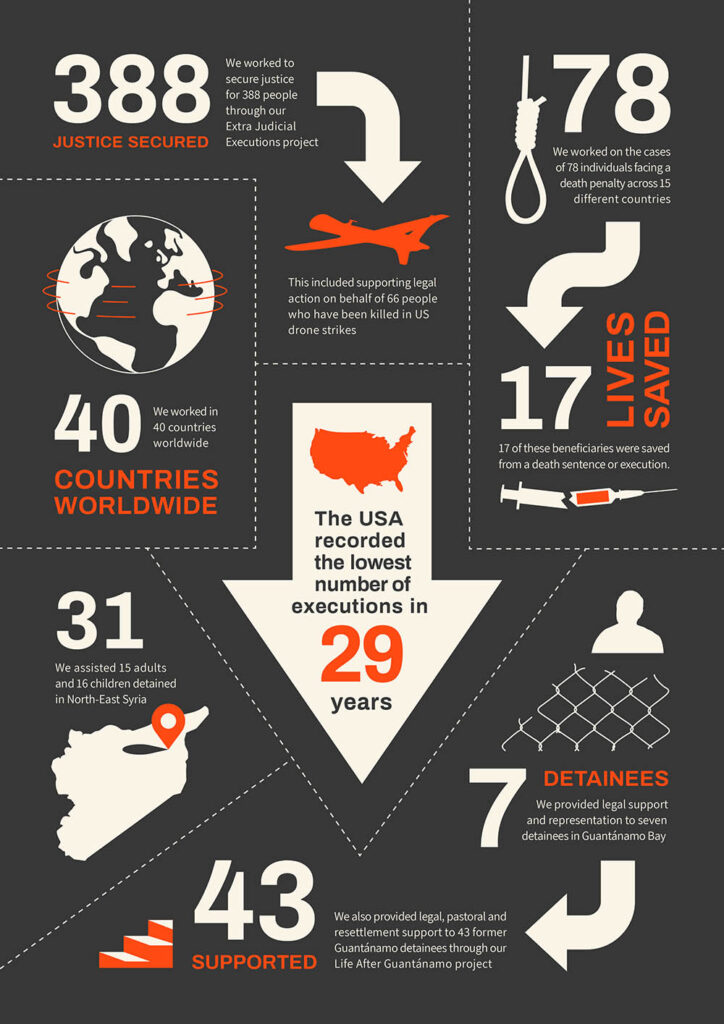 Reprieve is a nimble and agile organisation and one which is supported by a community of allies dedicated to improving and saving the lives of some of the world's most marginalised people. We were fortunate to have been able to continue to do our critical work during this difficult period. Working closely with our fantastic network of partners and in-country fellows, we were able to shift our strategies and ensure our clients remained supported, and the issues we campaign on didn't drop off the agenda. We invested in digital solutions and continued to offer pastoral support through telephone calls and newsletters when visits were forbidden. We shone a light on the effects and risks of COVID on our clients, emphasising prison overcrowding and the vulnerability of prisoners. And we managed to take huge strides forward in our work.
Through this report, you will read more about the work we undertook and some of our key achievements from the year. None of this would be have been possible without the dedication and passion of the Reprieve community and we would like to thank each and every person who donated their time, expertise, support and money to Reprieve through what was, undeniably, a strange and difficult year for all.
Thank you for all your support.